Owner-Occupier Buying Guide
---
Finding a New Office
Most central London commercial property purchases are undertaken by investors. Simplistically, the value of the property is dictated by the predicted cash flow of the asset and an investor's required return.
An owner-occupier generally has a different motive for buying a property, they may need a property where they can make their own changes that may be quite bespoke without seeking the building owner's permission, they may want to secure a building for their use in the distant future, it may be for part investment purposes to provide an income in letting the remainder of the property, it may be their business can add value to the building that they may then undertake a sale and leaseback or it may be solely for emotive purposes.
Owner-occupier pricing generally tracks investment values and depending upon the market and asset in question, an owner-occupier may be able to secure a property at investment value levels. However, should another owner-occupier also wish to buy the property, new dynamics come into play.
Kingly Partners have a broad experience in buying buildings for owner occupiers which have included offices, an embassy, a school and one of Kingly's most complex transactions was selling a charity's obsolete headquarters in the open market whilst simultaneously securing their new headquarters which was being openly marketed. Kingly Partners would be delighted to help any business secure a new property for themselves, no matter how complex, we like a challenge.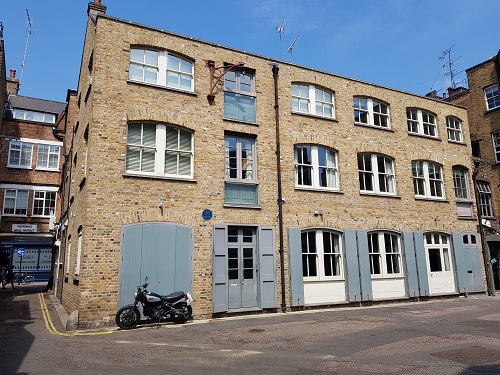 Author: jedrzej
Date: December 8, 2022
Covent Garden Commercial Property Market Guide
---
Covent Garden is well-known across the globe. It is a must-go-to destination for any visitor, domestic or international. It is there to entertain its visitors with the majority of London's theatres providing the cornerstone supported by a plethora of eating and drinking venues, beautiful buildings and a variety of shopping districts. Unsurprisingly, the buzz of the streets attracts office occupiers and residents. Whilst too small to be a village, it has that rounded community feel to it.
Kingly's Paul Rowntree has experience of buying or selling over 100 buildings in Covent Garden. Assets in this location are very popular. Covent Garden isn't going to become undesirable, there will always be someone who would like to locate their business in your building no matter the state of the market.
For an incoming investor, some streets are very hard to buy on due to existing estate ownerships either not being vendors or actively trying to "fill in the gaps". Kingly will be able to guide an investor towards streets where efforts are better spent with a higher chance of a successful purchase. For a vendor, there is certainly an art to achieving the maximum price where their property may be of interest to one of the estate owners, the estates have been able to secure some assets at a surprisingly low value, whilst in other instances, record prices have been set.
Should anyone own or wish to own a building in Covent Garden, Kingly would be delighted to chat about what is happening in the market. If that led to Kingly aiding another transaction, it would be smiles all around.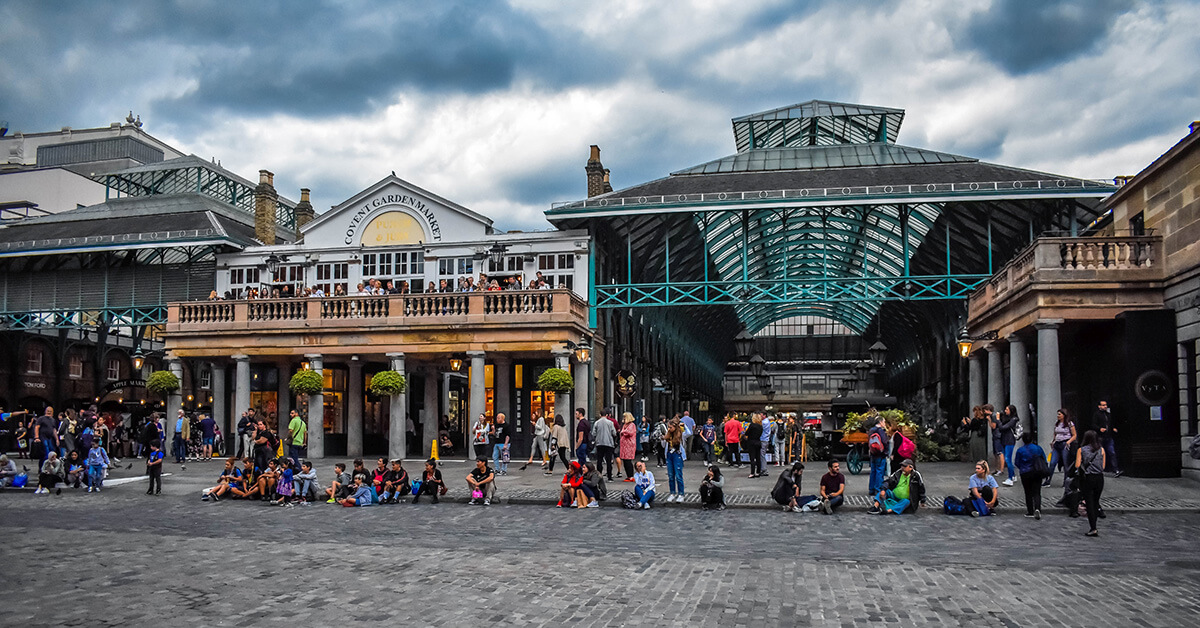 Author: jedrzej
Date:
Buying a Property
---
There are various types of purchasers who all have slightly different criteria regarding the type of property they are seeking to buy and the reason for the purchase. A fund manager may have a hypothetical ideal property that they would like to add to their portfolio to create their ideal portfolio balance, a REIT may be targeting specific properties for a site assembly exercise, a family trust may be seeking an asset that will perform well now and continue to do so for the next few generations, a property company may be seeking a building that will hit a short term return criteria for their investors, a private investor may be seeking an asset that will protect their wealth and they will be proud to walk past it knowing it is theirs, a developer could be seeking a property suitable for conversion to use that they believe will outperform other uses, an owner occupier will have a specific location and layout requirement, etc.
At Kingly, we seek to fully understand each potential purchaser's requirement to only send appropriate buying opportunities, avoiding properties where there is a special purchaser or another sector of buyers who are likely to pay more. Working as a team is important, building a relationship of mutual respect and trust. It is rare that the first property considered results in a purchase, but hopefully, it will be before the 100th!
Buying a property in Central London is not easy. It is very competitive. Ideally, every purchase would be "off-market" with no pressure from other purchasers. However there generally needs to be a reason for a vendor to sell their property off-market, ie that the buyer is a known special purchaser, the buyer has a fantastic reputation for performing quickly at market levels or the buyer is consistently outbidding all other buyers on properties that are openly marketed.
Whilst Kingly has managed to secure a number of off-market properties over the years, the majority of purchasers are of properties that have been openly marketed. This requires a good relationship with all other agents that are operating in Central London to ensure that we are aware of all properties that are being sold and to then use that good relationship to help secure the information a purchaser may need to form a well-researched offer and then provide our insights of how other buyers are pricing the property and where we expect a successful bid will need to be.
Each potential purchaser uses Kingly in a different way. Some have their own in-house analysts so will only require any Kingly appraisals as a check, others will rely on Kingly to research the occupational markets and provide detailed appraisals running different scenarios and others will require Kingly to help source additional specialist advice when required. The important thing is that we work as a team.
Should a purchaser wish to buy the property, Kingly then has two tasks, secure the property and do so on the best possible terms. If off-market, this puts Kingly's negotiation skills into action, which starts from the first communication. If on-market, Kingly's market intelligence becomes more important than knowing what other parties are doing.
In the event that an offer is accepted, we take care in ensuring Heads of Terms are worded appropriately to facilitate a smooth transition to the exchange of contracts. Daily communication is the norm during this period working as a team to ensure that all due diligence is undertaken and dealing with any problem that may arise in the most appropriate manner.
It is sometimes hard to know when to become excited that a purchase is going to happen as there are so many little steps that need to be taken and hurdles cleared with a constant risk of a larger external event occurring that could not be predicted and is out of everyone's control. Kingly will always point out anything they discover in their due diligence that may affect value, it will then be the purchaser's decision on whether to proceed to make an offer or with the transaction at a later stage. Equally, there can often be a solution and Kingly will work hard to find and negotiate that solution to keep a transaction live.
When contracts are complete, the sensation for the agent can be relief that it got over the line and for the purchaser, it may be that the real work starts here as they now have a building strategy to implement. However, we believe it is important to stop for a moment and toast the transaction, they aren't easy to do and a pat on each other's back is needed every now and then.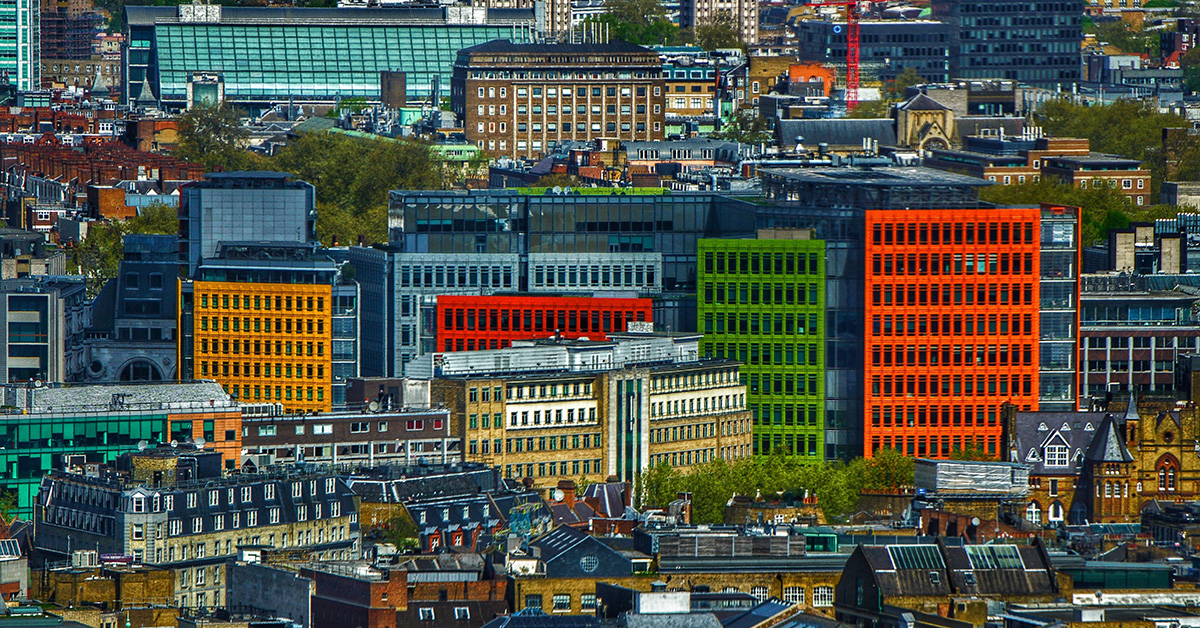 Author: jedrzej
Date:
Selling a Property
---
For some, selling a property has been planned from the outset and is the final stage of the investment strategy to be implemented. For others, it may to some extent be forced upon them, possibly due to excessive management requirements, the need for a major refurbishment, to fund expenditure elsewhere, reducing income, etc. And there are investors who are contemplating it as an idea, they may be seeking to re-balance their portfolio, they may be sensing the property cycle is approaching the top, they may have received a strong off-market approach, etc.
In all circumstances, an early conversation with Kingly can plan the best strategy. The conversation may initially be to assess whether selling is the best option or if there are other solutions that would achieve the intended goal. Our view of the value achievable will be at the forefront of the conversations, which may well alter as different scenarios are discussed. Should the decision to sell then be agreed upon, discussions will then include implementing any asset management strategies to enhance value, undertaking any property improvements, ensuring all surveys are up to date and consider undertaking others to aid a sale, instructing a solicitor to ensure all legal documentation is present, discuss market conditions and form a timetable.
Kingly work closely with the vendor, inspecting the property closely and reading the legal documentation to produce a long list of questions. We are then as informed as possible about the property, should we discover any matters that may impact the value or sale, we can agree on the best way to deal with it. When we are selling the property to potential buyers, we will know the answers to most questions.
Kingly will advise on what we believe will be the best marketing strategy to maximise value in the timescale required to sell the property. This may be a targeted sales approach to a handful of potential buyers or more often than not, it is the implementation of a full marketing campaign to all active investors and agents. Suitable marketing material will be produced, Kingly are big fans of clear concise sales details and then the sales process begins. In our minds, nothing beats picking up the phone and selling the asset. We want to maximise the chances of the best potential purchasers all inspecting the property. Our inside-out knowledge of the property, locality and nearby projects gives the asset the best chance to be attractive to potential purchasers.
An important, exciting and often tense part of the process is extracting the highest possible offer from the interested parties on terms that we would be prepared to work with. Selecting the party that will do what they say is paramount. There is then a high correlation between how good the preparation of the sale was some time ago to how smooth the process moves to exchange and completion of the sale. However, it isn't uncommon for matters to arise as a result of unforeseen or external factors, which need to be dealt with appropriately, otherwise agreed terms can change or even transactions fall apart.
Once complete, there may be relief or even surprise, but there should also be smiles and more than a good reason to toast the transaction.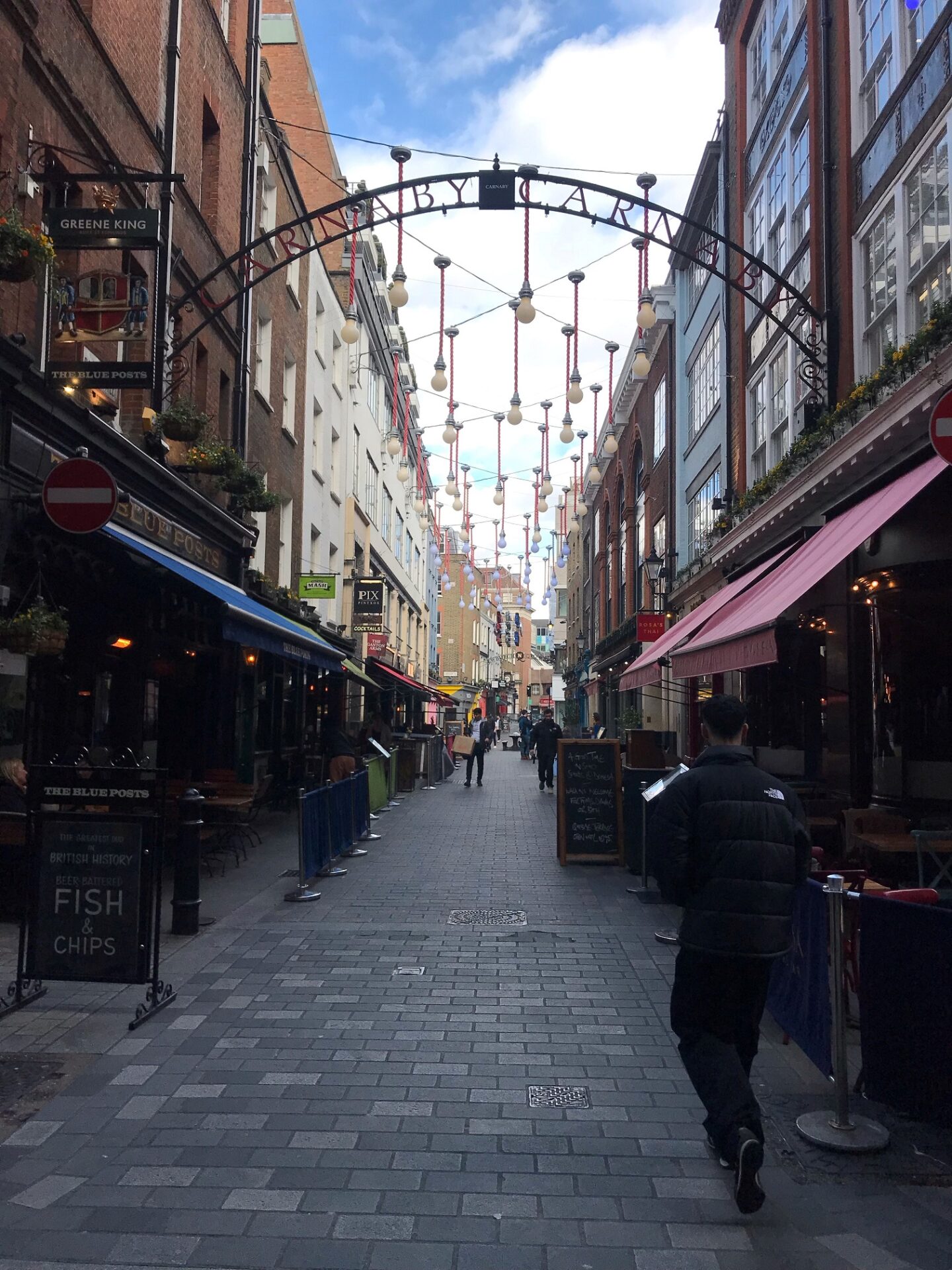 Author: jedrzej
Date:
Soho Commercial Property Market Guide
---
Soho is arguably one of the most popular parts of London. When the country was emerging from the various lockdowns, Soho's streets were the first to fill. Office workers want to be in the buzz. Why locate yourself on a tube journey or further away from where you want to be? There is a plethora of cafes, bars, pubs and restaurants, consisting of both institutions that draw you in again and again mixed in with new venues demonstrating the latest food and beverage fashions.
Whilst bounded in part by the shops of Regent Street and Oxford Street, Carnaby Street is the reason a number of people go shopping in London. Shoppers spill from here into a number of its side streets filled with boutique shops and deeper into Soho discovering that each street has its own character like Berwick Street and Old Compton Street.
Soho has been the home to Kingly since its inception and that is unlikely to change. We are big fans and have advised on a number of sales and purchases in the district. However, we're not the only ones who like it so it is competitive to buy a property. There are some streets best left to the special purchasers of that micro-location, but we would love to help anyone target the areas where the chance of success is the highest.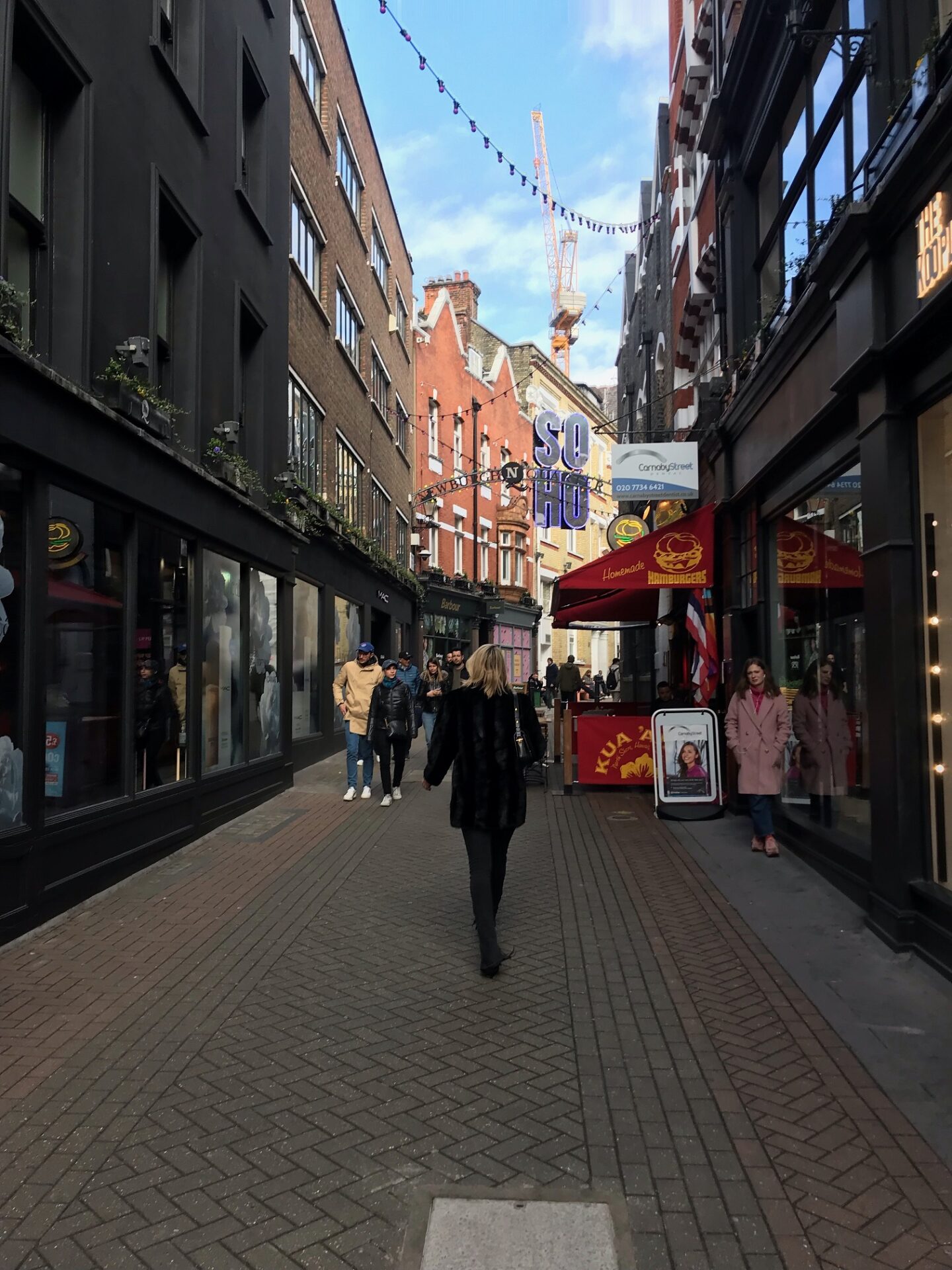 Author: jedrzej
Date:
Do you pay VAT on a property?
---
Most commercial properties are elected for VAT, in which case the answer is yes.
Don't panic, most purchasers are VAT registered, meaning that they can recover the VAT. If you are not registered, there are few buying entities that can't register themselves prior to purchase.
But how can the VAT be funded prior to its recovery? The transaction can be structured as a Transfer of Going Concern (TOGC). Simplistically it means that VAT does not need to be added to the purchase price.
There are some exceptions where a transaction cannot be treated as a TOGC, for example, if the property is vacant. A purchaser would then need to fund the additional amount, although if needed, there are lenders who specialise in helping purchasers who don't have the funds.
There is a double hit though, HMR&C charge stamp duty on the VAT amount as well as the property, which is not recoverable. The effect is an additional 1% stamp duty cost on the purchase price. Kingly does not believe this is fair and has challenged their charging tax on tax, which has been met with deaf ears at Westminster, reducing the amount of tax they receive from the property industry, fair or not, is not a concern of theirs.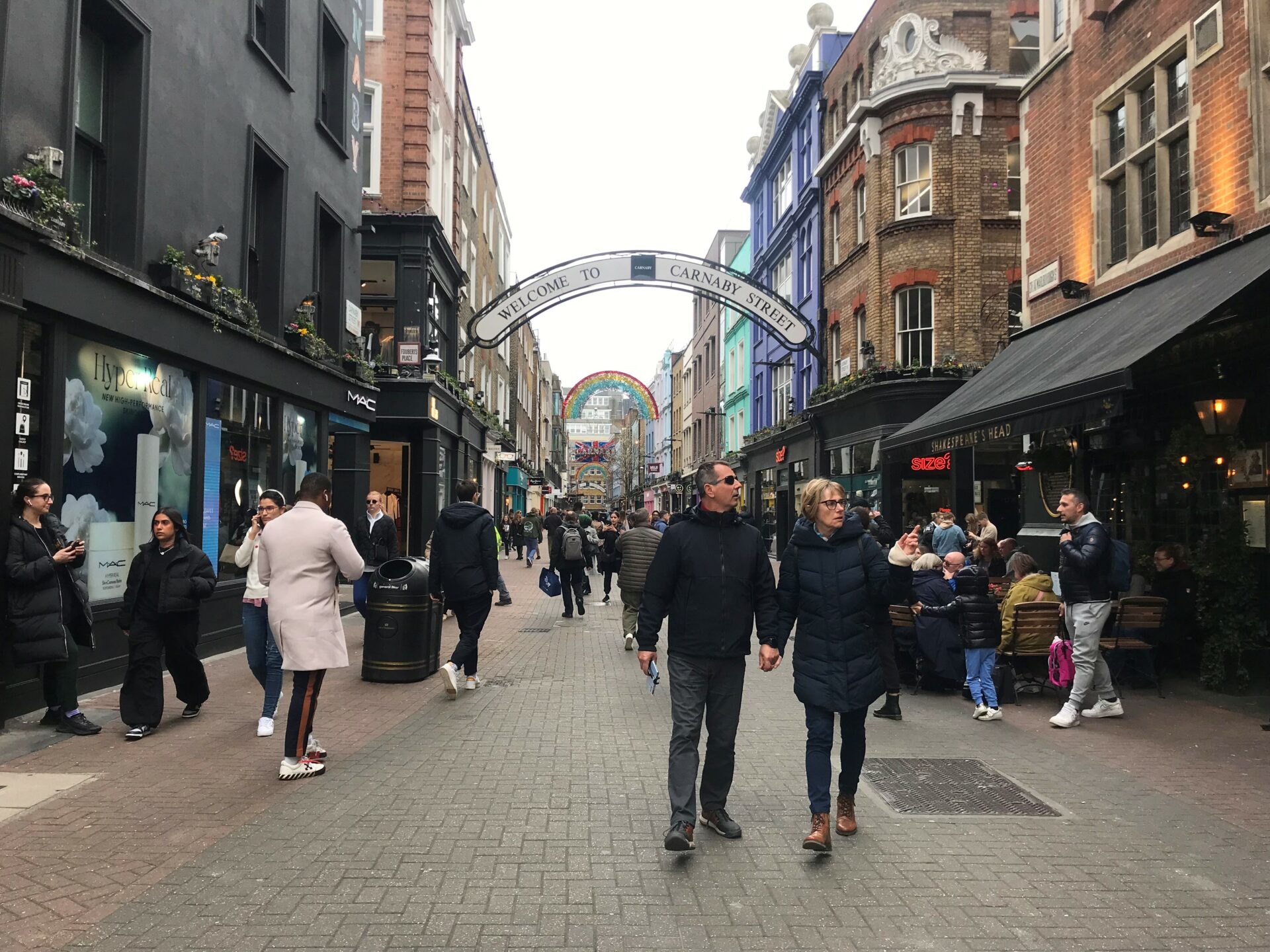 Author: jedrzej
Date:
Finding sites for citizenM Hotels in London
---
citizenM opened its first hotel at Amsterdam's Schiphol Airport in 2008, with an idea to disrupt the traditional hotel industry by creating an affordable luxury brand for the wider market. Vertically integrated owner, developer, operator, citizenM has been expanding its global portfolio across gateway cities in Europe, North America and Asia, currently comprising 30 operational hotels with a further 13 under construction, . Kingly Partners have been retained site finders for citizenM in London since 2008 and have acquired over 1000 beds, with an active requirement for more. But how did this all start? Here is the story behind Kingly Partners ongoing relationship with citizenM Hotels in London.
In late 2007, Kingly Partners was instructed on the sale of 15 Great Suffolk Street, SE1; a cleared site with planning for 26,000 sq ft offices. Kingly launched the sale in August 2008, with the Global Financial Crisis (GFC) gaining momentum. We received limited interest from speculative office developers due to, but not limited to, the slowing economy, lack of speculative property finance/tenant demand and uncertainty on values. Our marketing highlighted strong demand from hotel developers, perhaps sensing a window of opportunity for a potential change of use to the hotel with the local planning authority, mindful of the lack of speculative office demand.
citizenM had only just entered the London market, with the recent opening of their first hotel at Schiphol Airport. Despite their strong interest unfortunately citizenM was unsuccessful in acquiring 15 Great Suffolk Street. However, we got on with them well and followed up with some advice as to how we believed they could be more competitive next time. It was clear that Southbank was a key target so we shared our knowledge via a walking tour, using our ownership map, highlighting our forensic knowledge of the location on a building-by-building, street-by-street basis.
Despite no previous hotel land buying experience, citizenM retained Kingly Partners in 2008 as site finders. The remit was to acquire 1,000 beds in London, investing directly in real estate with citizenM being an investor, developer and operator, with institutional backing from APG (the Dutch civil servants' pension fund) joining family office KRC Capital as Shareholders in citizenM. Kingly Partners' approach was to principally look at change of use office to hotel opportunities, mindful of our knowledge of this sector and experience in key sub-markets of interest.
In the turbulent economic years following the GFC, the Kingly Partners approach to target obsolete office buildings and unviable office planning consents proved to be successful.
Initially, we focussed on marketing the brand and produced a flyer to circulate to key contacts in the London market highlighting the quality of the product, requirement, covenant and recent awards (winner of European Hotel Design of the Year 2008 amongst others) We found that being retained by citizenM with a clear message facilitated open discussions from the outset with a number of landowners and investors in the London market.
Through off-market discussions with Workspace, a long-standing client of Kingly Partners, we were presented with the opportunity of acquiring Surrey House, 20 Lavington Street in early 2009. The subject comprised a tired, economically obsolete, office building. Initially, the planners resisted a change of use from office to hotel, citing protection of employment uses. However, the open plan 'Living Room' design of the ground floor, active ground floor frontage, state of the art meeting rooms on the first floor combined with the overall quality of the design the application won the support of the Councillors at Planning Committee, receiving consent for a 191 room hotel. The hotel opened in Summer 2012 (just in time for the Olympics) named citizenM Bankside, citizenM's first London hotel.
What the press said following citizenM Bankside opening:
"stylish, high-tech and cheap: is citizenM the future of hospitality?" – Financial Times
"check-in for an overnight revolution at citizenM" – The Independent
"modern and lively: A space that feels more like arty friend's apartment than a hotel" – The Daily Telegraph
"citizenM has set a new standard for techno forward budget luxury" – Wallpaper
"the seven meeting rooms are possibly the coolest in London" – Conde Nast Traveller
"A London hotel that's light on formality" – New York Times
"citizenM is like a form of religion" – The Evening Standard
"There's a lot of attitude and art yet it's wonderfully relaxed" – Daily Mail
"The new citizenM in London sees itself as a manifesto for the future of hospitality" – Business Day
"Frustrated with London hotels? citizenM has the answer" – Hotel Chatter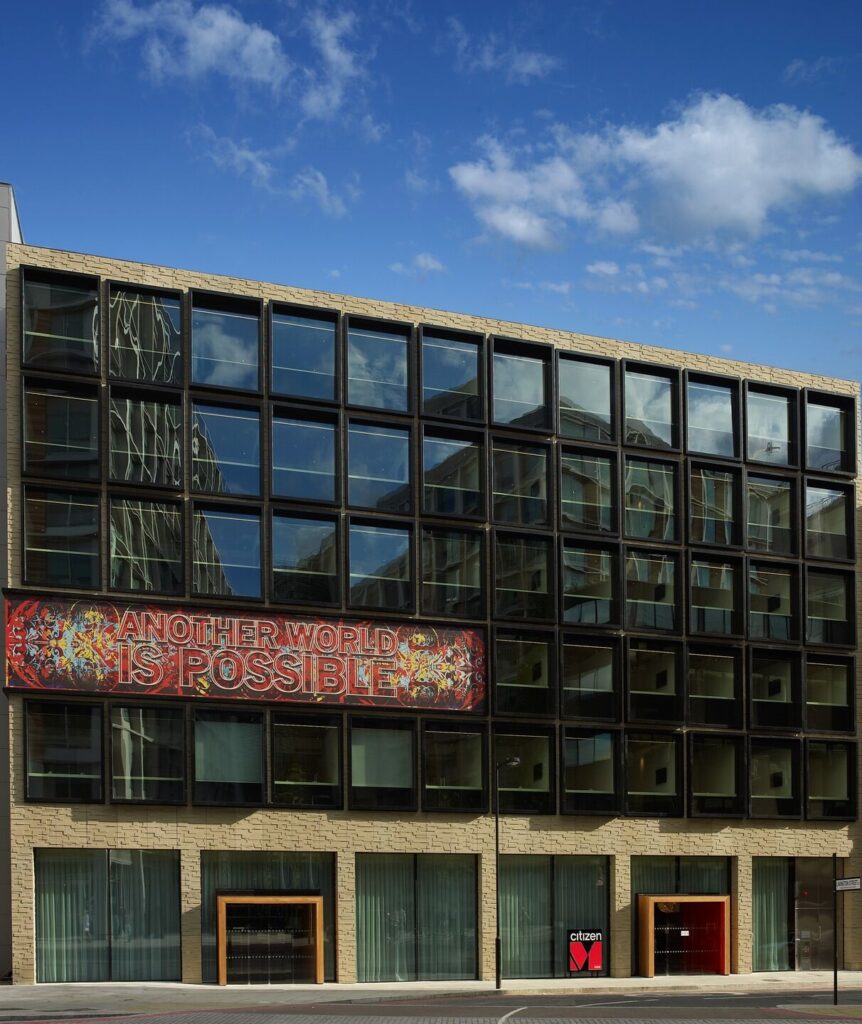 Discussions for the second London hotel began shortly after citizenM Bankside was secured, via off-market discussions highlighting the opportunity to acquire Tower House, 40 Trinity Square. The site had existing planning consent for an office scheme of 100k sq ft +. However the speculative office development market remained extremely weak due to the ongoing GFC, and construction was complicated requiring the development of a cantilever over Tower Hill Station. However, citizenM's modular construction method provided an efficient (lightweight) solution to the construction issues. Despite the turbulent economic conditions, terms were agreed upon to buy the freehold. In spite of significant planning hurdles, permission was granted on appeal for 370 rooms, and the hotel opened in summer 2016, named citizenM Tower of London, cM's second London hotel.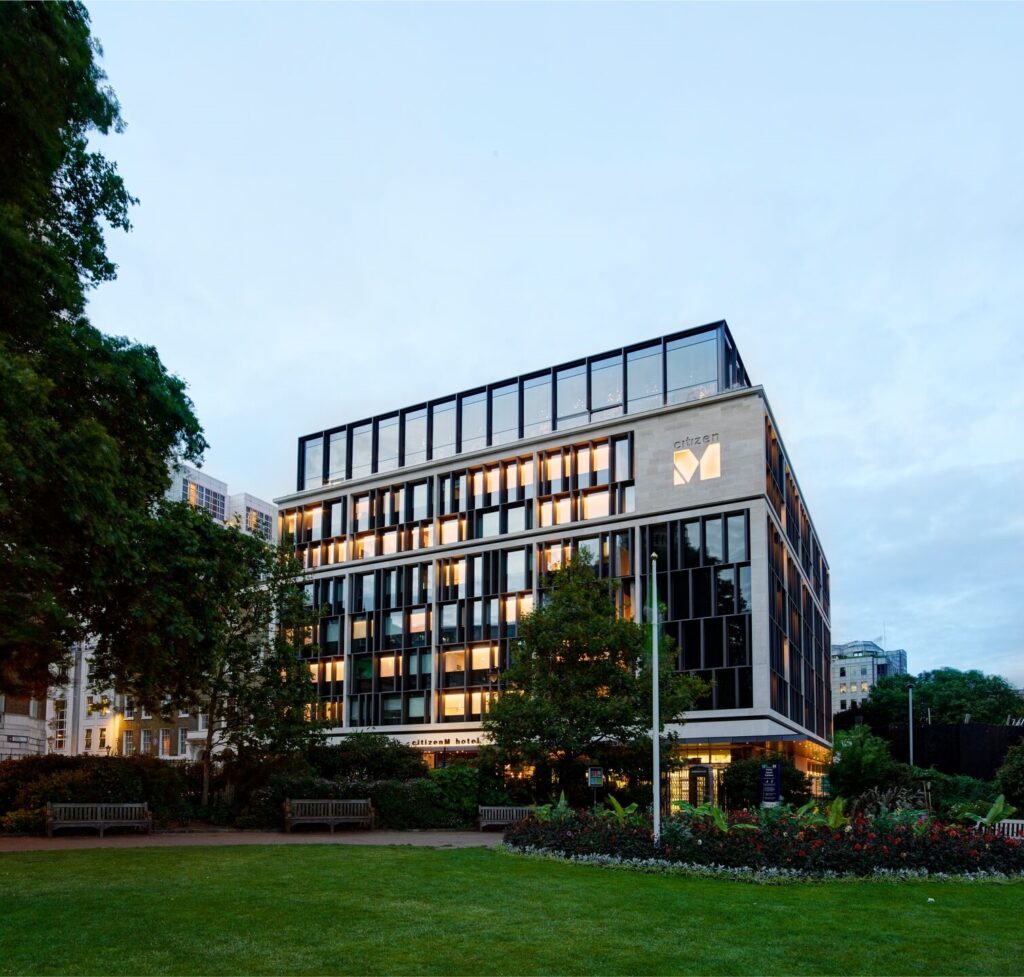 Building on the momentum from securing citizenM Bankside and Tower Hill, Kingly Partners were presented with a hotel development opportunity on Hollywell Lane in Shoreditch. A variety of deal structures were presented on a rental basis. This presented a challenge as citizenM looks to invest directly in property, so leases are not necessarily a natural fit. However, citizenM has always demonstrated flexibility in deal structures and the principal of a ground lease was negotiated and agreed, on a subject-to-planning basis. Planning was granted for 216 bedrooms and citizenM London Shoreditch opened in summer 2016, citizenM's third London hotel.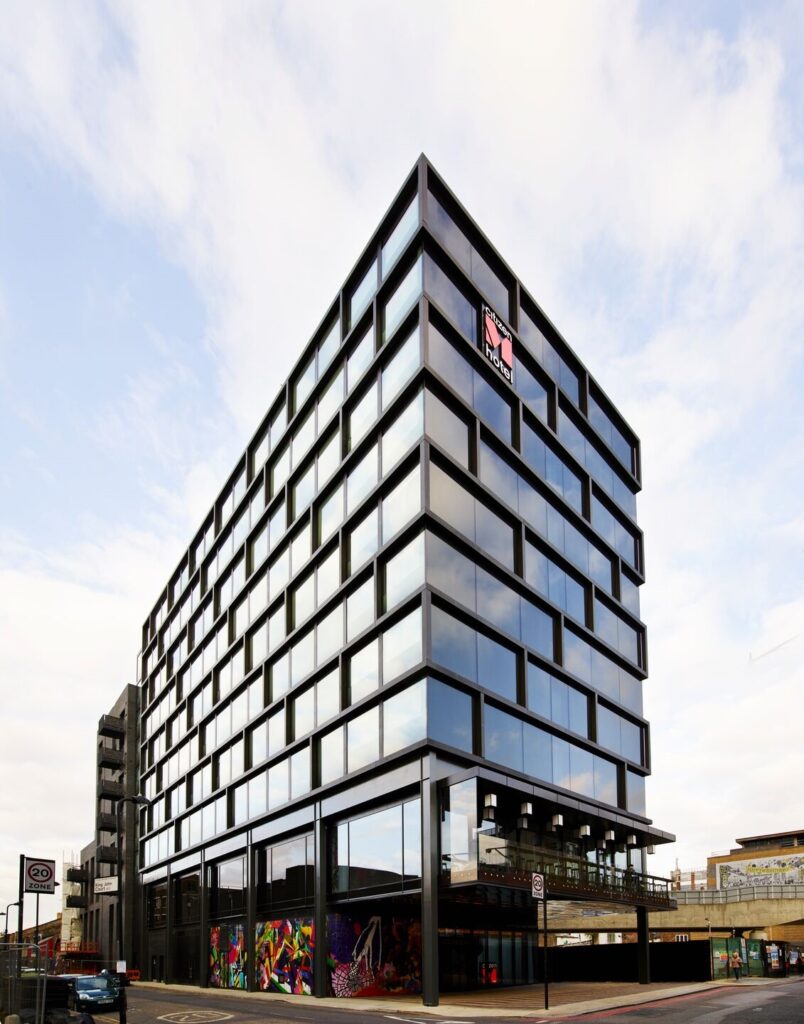 With the benefit of hindsight, the immediate years following the GFC proved to be one of the best land-buying markets in recent memory, and Kingly Partners were delighted to have secured c.75% of their 1000-bed target for citizenM in this time. It would be fair to say as we approached 2015-2016 the land-buying market became much more competitive and expensive, making good deals hard to find. The office developers were back. Kingly Partners core ethos is finding value, regardless of how long it takes. As such it was not until 2018 that discussions for the fourth London hotel began, again via off-market discussions, regarding Denison House, 292 Vauxhall Bridge Road. Owner occupied by The Press Association the building had an existing consent for conversion to residential. Kingly Partners agreed terms to buy the building unconditionally, with a 12-month delayed completion. Within this time planning was granted for a 226-room hotel and citizenM London Victoria opened in the summer of 2022, citizenM's fourth London hotel.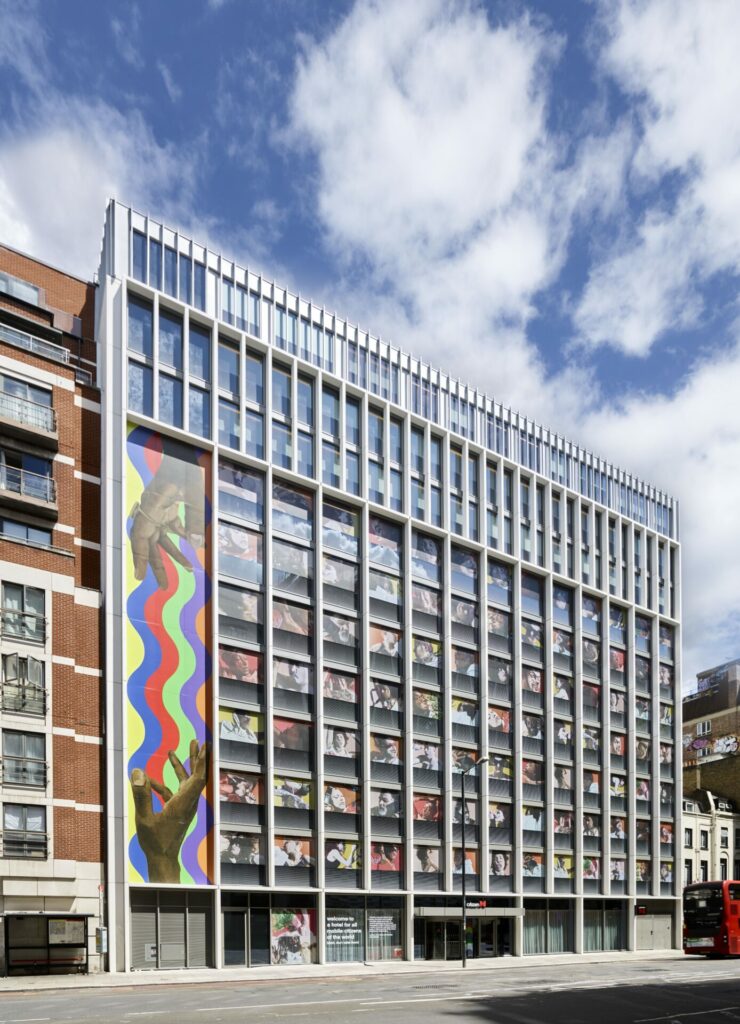 In June 2019 Singapore's sovereign wealth fund GIC joined the Dutch largest pension investor APG and the family office KRC Capital as shareholders in citizenM. GIC acquired a 25% stake, valuing citizenM at €2 billion. All shareholders jointly committed €750 million equity for the further rollout of citizenM hotels.
From 2009-2019 Kingly Partners exceeded their 1000 bed target set by citizenM, this has now been extended, with London being a key target. For more information on citizenM's current requirement please contact Sam Stevens.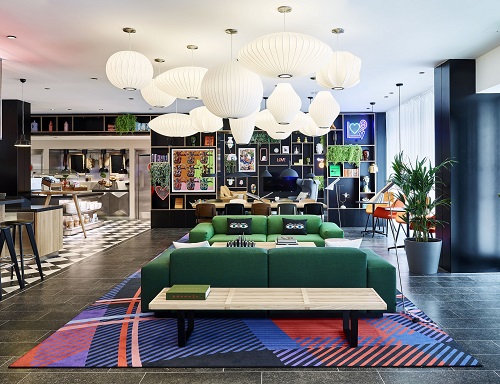 Author: jedrzej
Date: